Randal Bays - Irish Music Sessions
(well, my opinions anyway :-)
This page has information on Irish music sessions. If you're looking to book me for a concert or
other performance please visit my home page, or call me at two oh six -353-eight seven four three.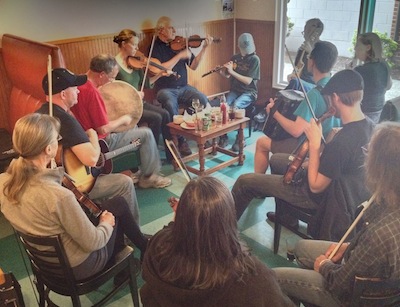 What's an Irish music session all about?
It's actually not that complicated... it's all about the music, mainly "the tunes", as we call them, plus songs, companionable talk, etc... but it's mainly the tunes. In a good session we are having a conversation. Someone who is making random noises during the music or during the chat between the tunes is making it hard to converse... a nuisance!
Do you understand the difference between melody and chords? It's important... tunes are melody and we play them for the most part on fiddles, flutes, whistles, accordions, banjos, concertinas, uilleann pipes, etc. The Irish tune tradition we love is all about learning and sharing a large repertoire of melodies, keeping them in our group memory. A session isn't really a performance setting... I think of it as a group memory building experience combined with a party. :-)
Good - Anything that makes the tunes (melody) better, the rhythm clear, the gathering a happy one
Bad - Anything that makes the tunes (melody) worse, the rhythm muddy, or any unkindness or ego trips
A session is just a setting where people who know the same tunes get together to play them and share conversation and fun. You can start your own session if you want... if you get together with people whose company you enjoy, and play music you all like to play, it's a good session and that's all there is to it.
However, people who are really involved in Irish traditional music have definite ideas and feelings about how a session should work. There are sometimes hurt feelings and bad vibes when newcomers or know-it-alls fail to understand the scene... a lack of "cop-on". (an Irish slang term... look it up)
In my session everyone is welcome to visit and listen, but if you want to play and haven't been to this kind of thing before, please read the rest of this page and consider visiting once or twice before bringing an instrument. Email me if you have any questions. There will usually be some fiddles, some flutes or tinwhistles, maybe button accordions, concertinas, uilleann pipes.. and if we're lucky a good singer will chip in the occasional song, also from the Irish tradition. (Some people use the Irish language word for a session, "seisiún".)
The hardest thing to accept, especially for people who are good musicians, is the sad fact that you have to learn and be able to play from memory a large number of complex melodies in order to take part in a good session. There is no way around this. No matter how accomplished you might be on that violin, you still have to learn a great many Irish tunes. And once you've done that, you have to figure out how to play them with good rhythm and style. It's amazing how many people grab a drum or a whistle and feel they have a right to push their way into a session, like in this video.
A few things to keep in mind...
It's not a "jam session".
It's not the same as a "jam session"; it's not OK to start improvising or playing some other kind of music. That might all be perfectly fine in another setting, but the focus here is on the melodies of the Irish tradition, what we call "the tunes". In a public session there is usually a small group of players and a larger group of listeners. The atmosphere is not the same as a concert, but more relaxed. Those who aren't playing will be talking and socializing but keeping their conversations to a reasonable level so as not to interfere with the music. There's usually a session leader who tries to keep the session lively and musically strong, while hopefully creating a welcoming, good vibe environment. There's been lots written about how it should work, including Barry Foy's humorous "Field Guide to the Irish Music Session".
It's all about the tunes.

That means melody, not chords, not percussion, although those can be included in a way that works. In my session please play one at a time on guitars, bodhrans, etc.

If you play a melody instrument - like fiddle or flute - please sit out or play along quietly until you have the tune.

Droning, chording, chopping... all that kind of thing is bad. It just makes things muddy and hard to hear the actual tunes.

If you play a chordal or percussion instrument - like guitar or bodhran - please play one at a time.. and gently.

All of us melody players are playing pretty much the exact same notes, but it's nearly impossible for two guitars to play the same chords unless it's rehearsed.

If someone is singing or playing a slow piece, please be quiet.

Never be ashamed to just listen; that's how we all learned to play.
Have a look at this pretty good article on Irish music sessions.
Here's a video of a lively session in Co. Clare.