Sunday Sessions, 2 - 4:30 pm
Wedgwood Alehouse 8515 35th Ave. NE, Seattle, 527-2676
(Family friendly, use side door to enter Family Room.)
Please... no guitars, bodhrans or other accompaniment instruments unless you check with us first. Thanks.
A note from Randal...
This session has been going for almost two years and it's generally been a good one.  I lead the session, along with some of my family and
a core group of strong players who come most Sundays.  Generally we start the tunes or the songs and we usually also invite various people
to start some.  I love a session where the music is lively and strong and the atmosphere is friendly and relaxed but it can be hard to maintain
both at the same time, so I put up this page last year to help avoid misunderstandings.  There are lots of kinds of Irish sessions; some are
meant to be learning sessions, but this one is not.  We play a wide repertoire of tunes, some of them obscure, and we tend to play at
fairly quick tempos.  I like to welcome new people at the session, but if we don't know you, please have some of what the Irish call "cop on",
which you can begin to acquire by reading the rest of this page.   Thanks.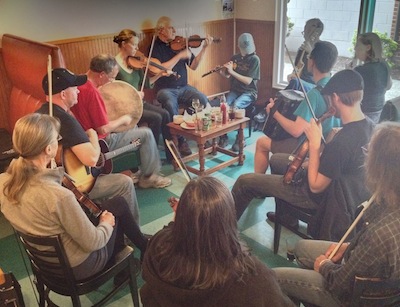 What's an Irish music session all about?
It's a setting where people who know how to play Irish traditional music come together, sometimes in public, sometimes in private homes, to share and enjoy the music and good company. There will usually be some fiddles, some flutes or tinwhistles, maybe button accordions, concertinas, uilleann pipes.. and if you're lucky a good singer will chip in the occasional song, also from the Irish tradition. (Some people use the Irish language word for a session, "seisiún".)
Everyone is welcome to visit and listen, but if you want to play and haven't been to this kind of session before, please read the rest of this page and consider visiting once or twice before bringing an instrument. Email me if you have any questions.
It's not a "jam session".
It's not the same as a "jam session"; it's not OK to start improvising or playing some other kind of music. That might all be perfectly fine in another setting, but the focus here is on the melodies of the Irish tradition, what we call "the tunes". In a public session there is usually a small group of players and a larger group of listeners. The atmosphere is not the same as a concert, but more relaxed. Those who aren't playing will be talking and socializing but keeping their conversations to a reasonable level so as not to interfere with the music. There's usually a session leader who tries to keep the session lively and musically strong, while hopefully creating a welcoming, good vibe environment. There's been lots written about how it should work, including Barry Foy's humorous "Field Guide to the Irish Music Session".
It's all about the tunes.
Musicians often talk about something called"session etiquette", which can be hard to understand if you're new to the whole thing. Just remember that the whole point is to play and hear great, unamplified traditional music and have a good time. Here's a handy guide for those who want to take part in a session:
If you play a melody instrument - like fiddle or flute - please sit out unless you know the tune. (Droning and faking don't work)

If you play a chordal or percussion instrument - like guitar or bodhran - please play one at a time.. and gently.

If someone is singing or playing a slow piece, please be quiet.

Never be ashamed to just listen; that's how we all learned to play.

If you play in this session, PLEASE don't stick your foot in the air to signal a change of tune. (&@!#$%!*)

And please don't "pounce" on the end of a set of tunes with the start of a new one; allow some space. 


Listen and relax.

Have a look at this pretty good article on Irish music sessions.
Here's a video of a lively session in Co. Clare.